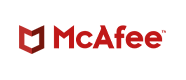 Uninstall McAfee Security product

Uninstall your McAfee software



Remnants of any previous McAfee software can sometimes cause problems when you are installing new versions. Run the McAfee Consumer Product Removal (MCPR) tool to quickly remove any of these remnants.

Open a web browser and go HERE

Download and run the MCPR tool:

Click Save when prompted.
Navigate to the saved file (usually in the Downloads folder on your PC.)
Double-click the file to run it.

Click I Agree and click Next.
Enter the Captcha code, and then click Next to continue.
Wait until MCPR completes. This may take a few minutes.
After MCPR completes, click Restart to restart your computer.

NOTE: If MCPR shows Incomplete uninstallation, restart the machine and run MCPR again.


Create a shortcut back to this step after restart:

Drag the link below to your desktop to create a shortcut icon.
McAfee – Uninstallation Shortcut
After your computer restarts, double-click the icon on your desktop to return to this step.
All Contents Copyright © 2021